The Ferreira and Tebbetts retractors are specialized surgical retractors commonly used in breast surgery and other reconstructive procedures. While they provide a wide range of benefits, they do have several drawbacks. These drawbacks may leave surgeons searching for alternatives. And there are alternatives.
Different retractors can be used as alternatives to the Ferreira and Tebbetts retractors.
Handheld retractors such as the Deaver and Richardson retractors are an option. A newer generation of handheld self-lighting retractors, like the Yasui koplight, are excellent alternatives. Other alternatives are self-retaining retractor systems like the Bookwalter retractor system and the Balfour retractor.
Read on for reviews of these retractors, and overviews of their uses, advantages, and disadvantages in breast surgery in particular.
What are the Ferreira and Tebbetts retractors?
The Ferreira and Tebbetts breast retractors are similar instruments. They're both used in breast surgery, especially breast reduction. But they do have a few differences, and both have shortcomings.
Ferreira retractor
The Ferreira is a specialized retractor. It combines retraction, suction, and fiber optic lighting all in one. It's primarily used in breast surgery and other reconstructive procedures.
This instrument provides several benefits.
Its curved, blunt blade tip allows for the safe retraction of the skin and delicate thoracic soft tissue structures. Its ergonomic handle reduces user fatigue. The built-in suction port allows easy suctioning of plume and tissue smoke during surgery. And the light port with a universal fiber-optic cable connection provides strong illumination during deep dissections.
Shortcomings of the Ferreira
The shortcoming of the Ferreira retractor mainly concerns its safety. As this retractor uses a fiber-optic light source, its cable can become very hot. The distal ends of fiber-optic cable bundles can reach temperatures up to 239°C (462°F). These temperatures can burn patients and cause surgical fires by setting operating room materials (such as drapes, towels, and gowns) on fire.
Ferreira retractors have some other shortcomings, too:
Their long cables and light source boxes contribute to cluttering and obstructing the OR space.

Purchasing, maintaining, sterilizing, and repairing these retractors are all associated with high costs.

Sterilizing complex reusable retractors is often ineffective.
Ineffectively sterilized instruments can serve as possible vectors for the spread of surgical infections.
Tebbetts retractor
The Tebbetts retractor has some slight differences compared with the Ferreira retractor. It's also an all-in-one multifunctional retractor with fiber-optic cable lighting. It's used for breast and other reconstructive procedures. The key difference is in the shape of its blade tip. The Tebbetts retractor's blade tip has corrugated teeth for extra tissue grip.
The benefits of the Tebbetts retractor are identical to those for the Ferreira. It provides superior retraction, effective ergonomics, suctioning, and fiber-optic illumination.
Shortcomings of the Tebbetts
The shortcomings of the Tebbetts retractor are also similar to those for the Ferreira. This instrument can also:
Burn patients and increase the risk of OR fires.

Have high purchasing, maintenance, sterilization, and repair costs.

Contribute to OR clutter and obstruction.

Be a vector for the spread of surgical infections when ineffectively sterilized.
The only additional caveat of the Tebbetts retractor is its corrugated teeth. These teeth can damage delicate soft tissue structures if not used carefully.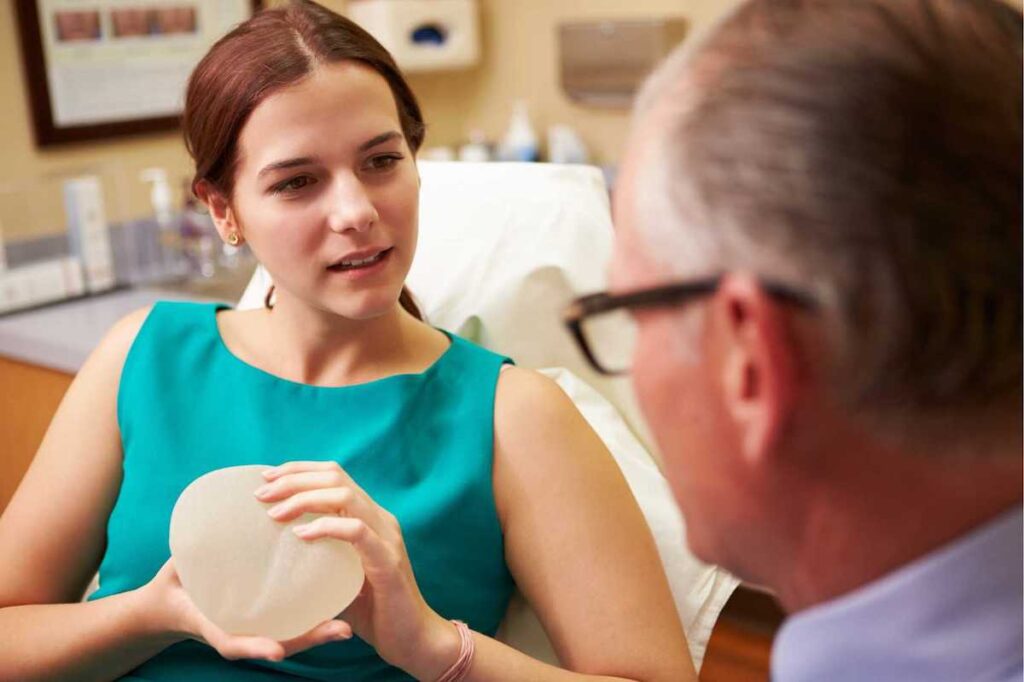 Ferreira and Tebbetts alternatives for breast surgery
Alternative retractors that can be used in breast surgery include the following.
Langenbeck retractor
The Langenbeck retractor is a hook-like, handheld instrument. Like the Deaver, the Langenbeck is also multipurpose and is used in many surgical specialties, including breast surgery.
This instrument's single, wide, L-shaped blunt blade makes it ideal for retracting subcutaneous tissues and for reaching deep cavities. The curvature at the end of the blade also makes it atraumatic and safe to use on delicate tissue. And it has an ergonomic teardrop ringed handle that aids grip and helps avoid slippage. This makes the Langenbeck a viable alternative to both the Ferreira and Tebbetts retractors for breast surgeries.
Handheld self-lighting retractor
Self-lighting retractors, like the koplight, are well suited to serve as an alternative to the Ferreira and Tebbetts retractors, as they provide lighting and retraction but with less risk and expense. These are multi-purpose handheld retractors enhanced by adding a built-in LED light source. These instruments provide gentle retraction of tissues and targeted illumination of deep cavities.
Self-illuminating retractors can replace a broad range of conventional metal retractors. This makes them smart alternatives for both breast-specific and general procedures.
The major benefit of handheld illuminating retractors is that they're cordless, and only the only assembly is attaching the blades and inserting the batteries. With no fiber-optic cord, they're safer and easier to maneuver than the Ferreira or Tebbetts retractors. Surgeons don't have to worry about burning patients or themselves, or causing operating room fires. They also don't have to be restricted by cables.
Handheld self-lighting retractors typically are single-use retractors in that the blades are replaced each time while the body's base is reused. This offers the option of interchangeable blades of different sizes, as with the koplight. The disposable aspect also makes them less likely to become vectors for surgical infections. And single use of the relevant parts also reduces sterilization costs. The safety and cost-effectiveness of single-use instruments make them a good option at high-volume surgery centers.
Richardson retractor
The Richardson retractor is another handheld instrument. It's used for safely holding back multiple layers of deep tissue structures. It's one of the most common retractors used for retracting wounds and superficial soft tissues during breast surgery. The Richardson retractor can be an alternative during lumpectomies, breast reduction surgery, etc.
The curved, crescent-shaped blade of the Richardson retractors makes it ideal for tissue retraction. This blade design enables safe insertion into deep incisions and atraumatic retraction of delicate tissues. Its varied handle design options (grip handle, lamb handle, hollow loop handle) also allows surgeons to choose their preferred design. This option provides higher levels of control and can reduce fatigue.
Deaver retractor
The Deaver retractor is also a handheld instrument. It's one of the most widely used and versatile retractors in many surgical specialties. Although most commonly used in open abdominal and thoracic surgeries, it has uses in breast surgery as well. The Deaver is a conservative choice in place of the Ferreira and Tebbetts retractors during cosmetic and oncologic breast surgeries.
The Deaver has a flat, curved blade that can atraumatically hold back the edges of an incision. Inside the body cavity, the Deaver can be used to gently move away and protect organs from the surgical site.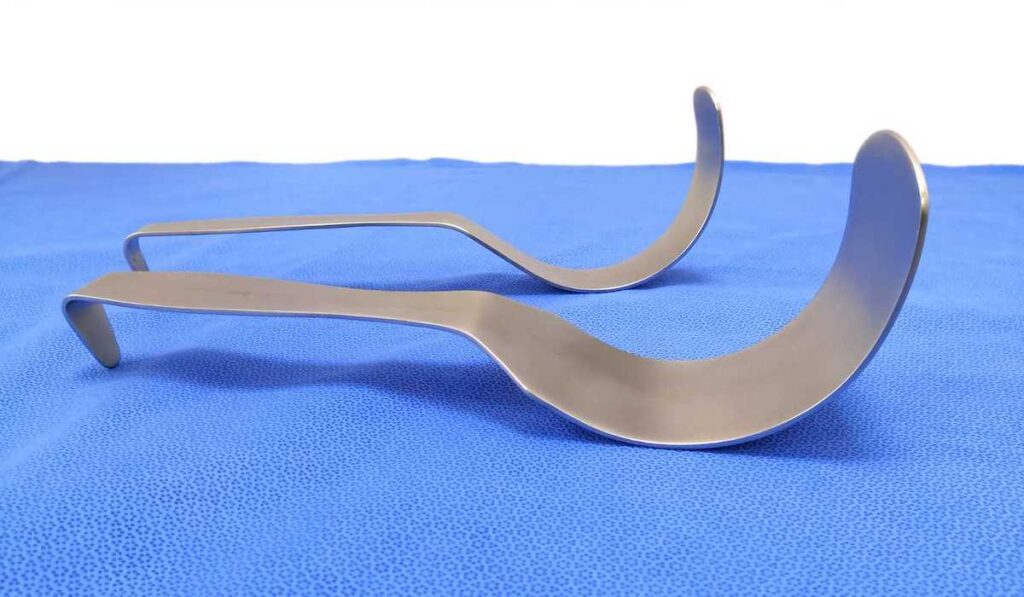 The Deaver retractor is also used during breast reconstruction and reduction surgeries. For example, during reduction mammoplasty, double-opposing Deaver retractors held together by a Zimmer paper clip can be used to hold the breast securely at its base.
Bookwalter retractor
The Bookwalter Self-retaining retraction system is a table-fixed device. It's used in many surgical specialties, including breast surgery. This retraction system can independently retract incised and dissected tissues, providing improved visibility. It can also reliably hold various instruments in place during surgery.
One study (pdf here) found that the Bookwalter Self-retaining retraction system was beneficial for axillary dissection during breast cancer surgery. The study reported that this system allowed prolonged periods of exposure and versatile blade placement. It also found that its self-retaining property eliminated the need for a second surgeon. This lowered the cost of surgery.
A safe, hygienic alternative for breast surgery
Our Yasui koplight is an excellent option for breast surgery. Not only will it eliminate the problems of fiber optic retractors like the Ferreira and Tebbetts, it will provide bright and focused lighting to further increase the lighting of the operating field. See more details here and download a brochure, or get in touch directly. We welcome inquiries from distributors, surgeons, and others looking for practical and modern breast surgery devices.