Despite solving key problems in surgical lighting, fiber-optic lighted retractors also present problems. They've even been included as one of the top medical technology safety hazards by the Emergency Care Research Institute.
The biggest problem of fiber-optic lighted retractors is their safety, for both patients and medical personnel. Other problems with these devices include their high cost and the challenges of sterilizing, decontaminating, and maintaining them.
This article sheds light (no pun intended) on the problems associated with fiber-optic lighted retractors. If you're thinking of investing in fiber-optic retractors, carefully consider each of these. We'll also offer an alternative.
1. Heat and burning of users and patients, and fire!
The medical literature has reported thermal skin burns and surgical fires with the use of fiber-optic lighted retractors. This is a major concern for patient and medical staff safety.
Fiber-optic light sources, such as halogen and xenon, produce heat by generating electromagnetic waves in the visible light spectrum. As such, their cables and cords can become very hot.
Studies have examined the heat generated by these light sources and their effect on biological tissues and operating room materials.
One study found that the distal end (tip) of fiber-optic cable bundles can reach 225°C within 15 seconds and 239°C (462°F) in less than 10 minutes. These temperatures can directly injure the skin, as studies show skin burns in less than 1 second when exposed to temperatures at or above 70°C.
Surgical drapes, towels, gowns, and other materials also undergo visible thermal changes such as discoloration, burning, smoking, smoldering, and even perforation at these temperatures.
Lighted retractor-caused injuries have also been reported. One case report was of a 12-mm third-degree burn caused by a fiber-optic cable that was left over a paper drape for less than a minute.
Because of these safety concerns, the ECRI Institute Journal of Health Devices published a surgical fire prevention guide. The guide, in part, aimed to spread awareness of the thermal hazards of fiber-optic lighted instruments and how to lessen them.
Another form of illuminated retractor, the handheld LED-lit retractor, essentially eliminates these risks.
2. Wiring and obstruction in the operating room
Fiber-optic retractors and their components cause cluttering and obstruction of OR space.
These retractors have multiple parts. For example, they may have a fiber-optic cable, storage tray, bulky light source, and power cord. All these extra parts can lead to crowding in the OR, along with all the other instruments and people present for surgery.
This phenomenon has become known as Spaghetti syndrome. This environment of congestion and cluttering obstructs medical staff movement and coordination in the OR. And it increases the risk of trips and falls by medical personnel.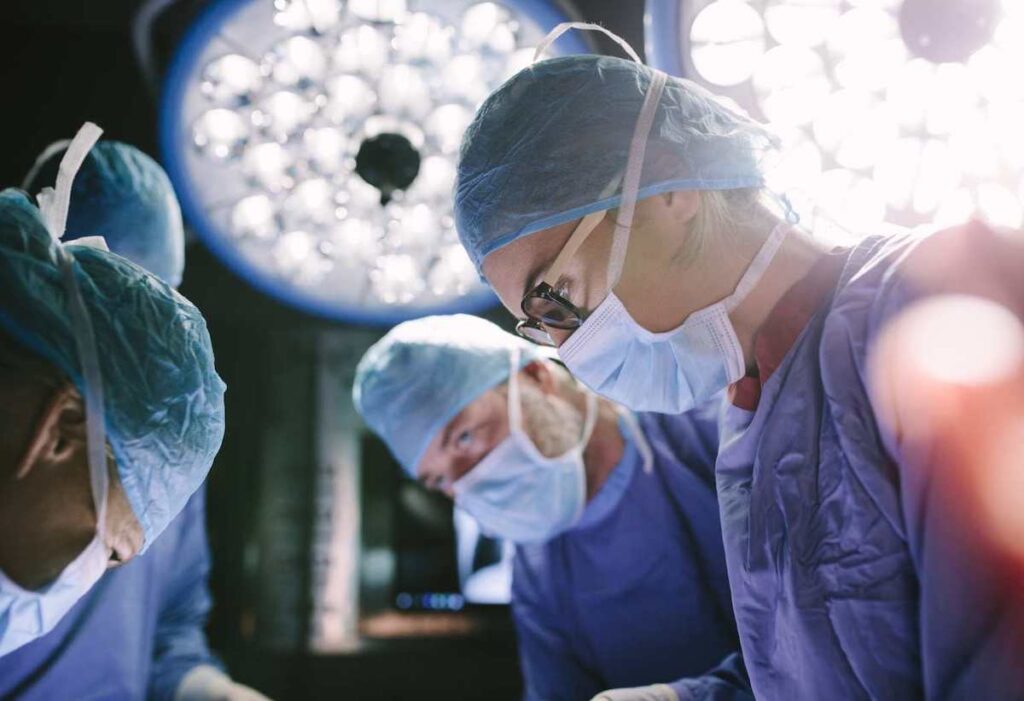 This all endangers the safety of both the patients and staff.
3. High cost
The high cost of fiber-optic lighted retractors is beyond just the price to buy them. When looking at the total cost, several factors must be considered.
Purchase price
These instruments are available in two forms. A standard retractor with a port for a fiber-optic cable connected to a light source, and a cordless single-use retractor with a built-in light source, like the Yasui koplight.
The cost to buy a single corded lighted retractor can exceed $13,000. One analysis (keep in mind these are 2020 rates) breaks down the cost as:
$200–$1,500 for the standard retractor
$300–$1,300 for a fiber-optic cable
$800–$1,000 for a sterilization tray
$1,000–$5,000 for an external LED light source or $5,000-$20,000 for an external halogen light source
$250-$500 for single-use pieces that enhance illumination for specific cases
Cordless single-use lighted retractors can range as little as the hundreds for sets with replaceable parts. For more on the koplight, please see here.
The total annual cost of these instruments for a given hospital naturally depends on the number and type of surgeries they perform each year and on any associated costs.
As such, it's clear that the purchase price of a fiber-optic setup, such as the Ferreira or Tebbetts, is already a considerable expense.
Cost of sterilization and decontamination
The cost of sterilization and decontamination, also known as reprocessing, should be considered when looking at the overall cost of lighted retractors.
A study that analyzed the cost of reprocessing similar instruments found the reprocessing cost to be $96.13. Overall, it's suggested that the cost of sterilizing and decontaminating a single surgical tray ranges from $51 to $96.
Therefore, reprocessing reusable lighted retractors, namely fiber-optic retractors, represents yet another variable in their high cost.
Additional costs
Two additional factors have to be considered in the cost analysis of fiber-optic retractors: maintenance and repair and the time spent setting up and readjusting them.
The exact repair and maintenance costs are hard to calculate because they vary by the system and its condition. However, it's still important to consider when calculating the overall cost. One study found the average cost for this for similar instruments was $5,500 per year for technician time and up to $1,000 per year for replacement parts.
Time is money in the OR. It's been shown that the cost per minute in the OR ranges from $25 to $100. As such, the last factor in the price of these instruments can be measured on a cost-per-minute basis. The set-up time required for external fiber-optic light sources and the additional time needed to adjust their cables and attachments all contribute to additional minutes in the OR. This extra time equals extra expense.
4. Sterilization
Reusable fiber-optic lighted instruments become contaminated after use in surgery. So they need considerable sterilization to minimize biological cross-contamination from one patient to the next.
The sterilization of these instruments can be challenging. Although manufacturers include detailed instructions for reprocessing, one study found that these instructions aren't always followed. And even if instructions are followed, current sterilization methods aren't 100% effective. One study found that 29.5% of sterilized reusables devices tested positive for pathogenic bacteria.
An ineffective sterilization process for reusable instruments means they become vectors for surgical infections. And fiber-optic lighted retractors represent yet another OR instrument that needs sterilization and another possible vector for spreading infections.
5. Various obstructions for the surgeon
Fiber-optic lighted retractors, despite their beneficial lighting, obstruct surgeons in various ways. The remoteness of the light source box, the fragility of the fiber-optic cable, and the sometimes over-brightness of the lights are commonly reported issues.
As mentioned, reusable lighted retractors have an LED or halogen light source box. These boxes are often far away from the surgeon and are not sterile. This means that the surgeon can't access the light box themselves. This means that every time they want to adjust the brightness of the retractor, they have to ask for an assistant's help. After these types of distractions, it can take several minutes for surgeons to recover concentration and productivity. This has been linked with worse surgical accuracy and performance.
Fiber-optic cables are known to be fragile and costly. Therefore surgeons have to be careful when using "corded" retractors so as not to break them. This adds minor, yet unnecessary, stress to an already high-stress environment.
Lastly, certain fiber-optic lighted retractors may be too bright. In surgery, brighter is not always better because intense direct light sources can cause glare. Glare leads to washing out of details and loss of contrast. This makes it difficult to tell structures and tissues apart.
When the fiber-optic retractor cons outweigh the pros – go cordless
Handheld LED-light retractors are a (literally) attractive alternative. They remove the heat risks, obstructive cables, and high costs. Our Yasui koplight introduces a sleek, made-in-Japan design cultivated over years of manufacturing experience. Read here and download a brochure, or reach out to us directly if you're a distributor, surgeon, or another concerned party.