Handheld surgical retractors are one of the essential tools utilized in all surgical specialties. They let surgeons hold back the edges of surgical wounds and move soft tissues out of the way of other instruments, protecting vital structures during surgery. Handheld is a broad definition, including relatively simple metal instruments, one held in each hand, and more-complex scissor-like and self-retaining devices with moving parts.
Many retractor designs are available for specific operative sites and tissue types, such as skin, muscles, organs, blood vessels, and nerves. Handheld retractors can vary in size, as well as the handle's shape and form, the blades, hooks, graspers, and the claws used to retract tissues. Here are five top uses for handheld surgical retractors in medical procedures. Versatile handheld retractors also have some less-common uses, and we'll discuss one of those later.
1. Retracting the skin
Skin retraction in surgery is accomplished using handheld skin hooks or rakes as a form of retractor. These devices provide precise tissue manipulation during wound closure, suturing, and tissue dissections.
Skin hooks can range 11–15 cm long with various numbered, sized, and shaped hooked tips available. These hooks puncture the surface of skin, tethering it and preventing it from slipping. This "puncturing" method of grasping skin enables safe retraction. It's also much preferred over grasping and retracting skin using compressive forces, to which the skin is much less tolerant.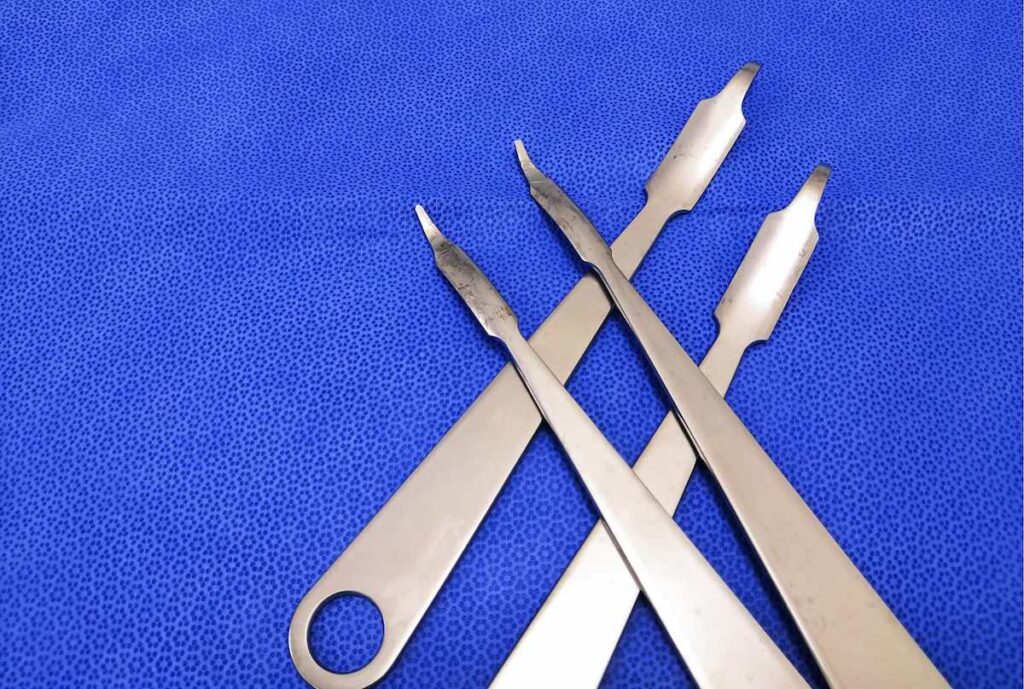 The commonly used Senn tissue retractor is one example of a handheld skin hook. This L-shaped instrument can have two or three curved prongs with either sharp or blunt tips. It provides delicate retraction in plastic, hand, vascular, and thyroid surgeries, and other procedures involving soft tissue and skin.
The Wiener skin hook is another common handheld hook-type skin retractor. This instrument has a single hook and is used for most skin and soft tissue retraction purposes. Other skin retractors include the larger Frazer and Freer skin hooks, and the smaller Tyrell skin hook, used for the retraction of delicate flaps.
2. Retracting muscles
Muscles are a type of soft tissue, and numerous types of handheld retractors can be used for their retraction, depending on the surgery.
The Army-Navy, Farabeuf, Langenbeck, and Richardson retractors are examples of general-use handheld retractors for holding back muscle tissue. They have terminally curved, blunt, crescent-shaped blades on either one or both sides. These can safely and atraumatically retract muscles.
Modern versions of these instruments are also available as either fiber-optic or LED handheld retractors with or without additional suction ports. As we mention elsewhere, the fiber-optic setups can be very expensive and pose some risks. The handheld Yasui koplight is a useful, brightly lit, and well-designed LED option.
The Meyerding retractor is a more specific type of handheld muscle retractor. This handheld instrument is frequently used in spinal and neurosurgical procedures. It holds back muscle and other delicate tissues during procedures such as laminectomy and decompression surgeries.
3. Retracting organs
Handheld organ retractors are commonly used in open abdominal and thoracic surgeries. These instruments are specially designed with wide, blunt blades and curved tips that can safely and atraumatically retract internal organs. They also shield delicate organ tissues from other sharp instruments.
The most commonly known organ retractor is the Deaver. The Deaver retractor has a wide, flat, and curved blade. This retractor is used in deep abdominal or thoracic surgeries to safely retract visceral organs and protect them from sharp instruments. For example, the Deaver retractor can be used in cholecystectomies to gently retract the right lobe of the liver and expose the gallbladder.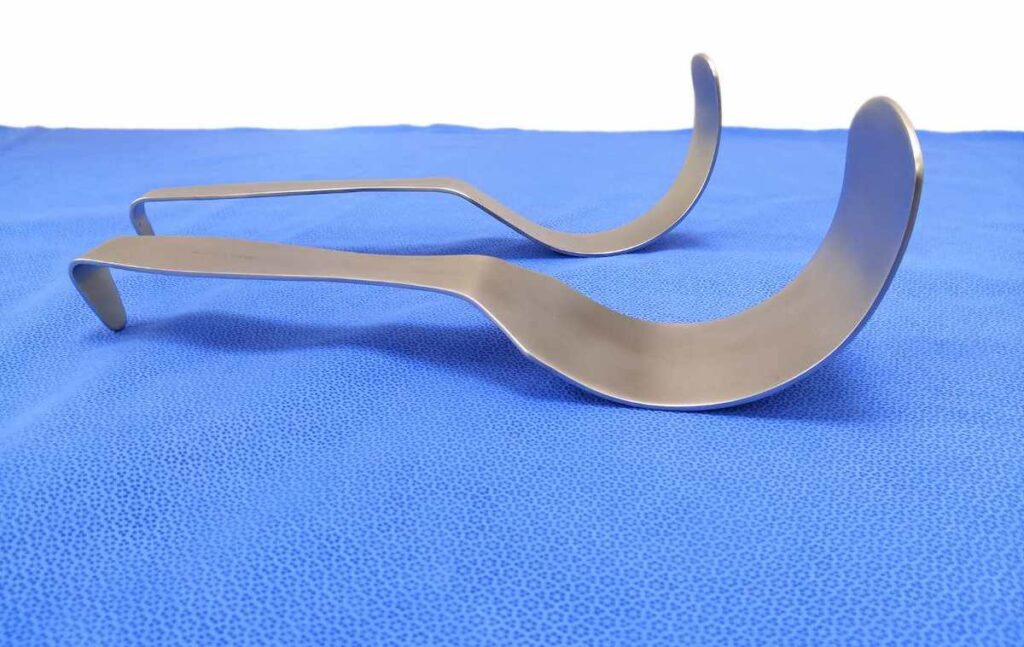 The malleable Ribbon retractor is another type of handheld organ retractor. This instrument looks like a metal tongue depressor with rounded, blunt edges. It is made of a flexible metal alloy that can be bent into various shapes. Conforming to and retaining a desired shape is especially useful during surgery, as a single instrument can meet different retraction challenges. This instrument can also be manipulated to provide self-retaining fixation and retraction of tissues.
Modified LED or fiber-optic lighted versions of standard handheld organ retractors have also been developed over the last few decades. These instruments, such as the koplight, use the benefits offered by the original designs of these instruments, and improve on them by providing a built-in light source. This provides direct, bright light into dark organ cavities, which helps improves visualization. That function is especially useful for deep abdominal and pelvic surgeries.
4. Retracting blood vessels
Both general and specialized handheld retractors are used in vascular surgery. These instruments retract blood vessels such as the femoral and iliac arteries, the abdominal aorta and its branches, the lumbar sympathetic chain, the carotid, the axillary, and the lower extremity arteries.
The Wylie renal vein retractor is one example of a specialized handheld blood vessel retractor. It can be used to retract arteries and veins. Its curved design was engineered to allow vessel retraction without stopping blood flow. The effects of this design help reduce the chances of thrombosis by preventing blood stasis, a major risk for clotting.
The Cushing vein retractor is another specialized handheld retractor used for blood vessels. This instrument has a terminal curved blade. This allows retraction of veins and facilitates dissection of tissues around them.
5. Retracting nerves
Specialized handheld retractors and hooks can also achieve nerve retraction. In laminectomies, discectomies, and other neurosurgical and spinal procedures, nerves must be elevated and retracted to prevent them from injury.
The numerous types of nerve retractors and hooks include the Love, Casper, Campbell, Dandy, Horn, Holscher, and Smithwick. These instruments' designs let surgeons access, grasp, pull back, hold, and mobilize delicate spinal nerves and nerve roots atraumatically, without irritation or inadvertent damage. These devices may also help to protect nerves from other cutting instruments.
Unconventional use: Veterinary surgeries
Human and veterinary surgery isn't all that different regarding the instruments needed to perform them, including retractors. In fact, most equipment used in veterinary medicine was originally made for humans. But full-sized human surgical instruments aren't always best suited for small animals. Smaller instruments used in pediatric, ophthalmic, and microsurgical specialties are often modified and used in veterinary medicine.
For example, a modified Hohmann retractor, a device normally used in humans for hip and knee surgery, is widely used in orthopedic veterinary surgery. This modified retractor lets veterinary surgeons retract soft tissues and expose bony segments during arthroplasty in pets.
Modified versions of retractors like the Langenbeck and Senn, which are widely employed in human general surgery, are also commonly used in veterinary surgery. They are commonly used in deep structure surgeries, such as to control internal bleeding or relieve intestinal obstructions due to foreign bodies.
The best solution for handheld, self-lighting retractors
The Yasui koplight is lesser-known because it's newer, made from highly durable plastic, and modern. Unlike heavier and more costly steel instruments, it saves surgeons and OR staff from surgical fatigue. LED lighting is an added bonus, enabling focused light in the operating field. Learn more about the koplight here, and contact us if you're interested in trying it out, using it, or being a distributor.